Meet Your Trainers
Your trainers are two of the worlds most respected trainers. NLP Master Trainers Laureli Blyth and Dr. Heidi Heron have made it to the World's Top 30 NLP Speakers and Trainers every year since 2014, and currently sit as the #15 (Laureli) and #5 (Dr. Heidi) ranked NLP trainer in the world.
We are so proud to share these wonderful ladies with you and the world. They are truly inspirational and passionate about their field.
Visit www.globalgurus.org for the full list
It's different here. We are different here.
Firstly and importantly our NLP Certification courses all exceed the minimum international requirements for Certification Training and include the required components of Ericksonian Hypnosis and Timeline.
Anywhere in the world that you train with the Worldwide Institutes of NLP you are guaranteed top quality training, because we pride ourselves on teaching Pure NLP. The way it was meant to be.
We also offer our students a variety of benefits to last a lifetime including ongoing practice groups (in person and online), a lifetime subscription to our Student Membership Site, the ability to review the training at no cost*, ongoing learning opportunities, discounts at upcoming workshops and more!
Next let's talk about class size, support, community, and our come-as-you are atmosphere.
Years ago we made a commitment to sensible and intimate class sizes, with a maximum of 20 participants. Where others attempt to train 50+ students at a time in a certification course, we feel it is important to maintain a logical class size so you are not lost in the numbers and have a one-on-one approach.
Ongoing support that includes course study groups, supervision, online and face to face practice groups, online videos, mentor meetings and lifetime access to our student membership site

.

All our NLP courses are trained in a generative, accelerated learning capacity – enabling you to absorb and transform immediately, you don't have to wait until the end of the training to notice your own transformations.
We strive to create an atmosphere that is comfortable and laid-back in training where our staff and trainers are approachable, authentic, and real. There is no acting here. We talk the talk, and walk the walk!
NLP trainers that use the skills in every day life, plus in a coaching, therapeutic and consultative manner. Not only do we train NLP, we use it! Therefore, you are getting practical, hands on knowledge from the people who use the skills every day!
Our graduates use NLP and get it into their lives and are invited to stay connected to the global community. We practice together, play together, and continue to learn together well after the training has finished.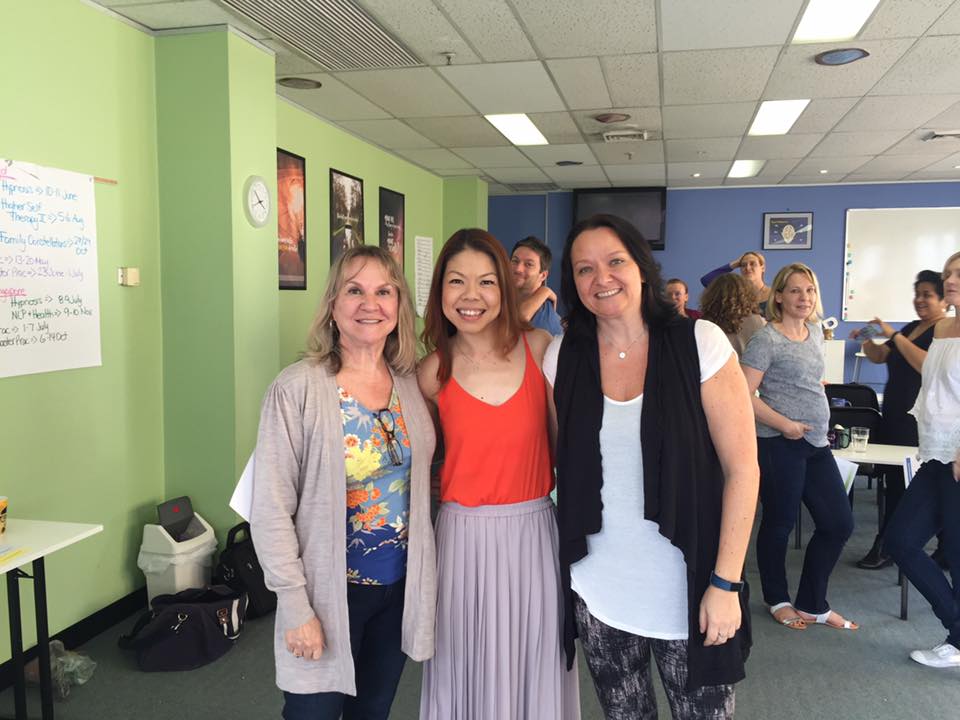 Our aim is to provide NLP Training that is high in value, integrity and authenticity so you can be the best YOU and help others do the same. We are the professionals in liberating human potential through NLP & Coach Certification.
All of our NLP Certification trainings are lead by Principle Trainers Dr. Heidi Heron and Laureli Blyth. We are supported by a dynamic training team for our Coach Certification training.
Dr. Heidi is a lover of learning – in fact, she is currently completing her Masters's Degree in Consciousness, rounding out her skillset and knowledge of spirituality, wholeness, and source! In her spare time, you may find her either with her nose in a book, streaming a podcast or on the golf course!
She has been involved with the technology of NLP for most of her life and is an International Master Trainer of NLP, Clinical Hypnotherapist and Doctor of Psychology. She has obtained her Doctorate in Psychology; Masters in Adult Education and Bachelor's Degree in Psychology and Communication. Heidi has a background in Corporate Human Resources Management and Personal Development.  She holds Clinical Professional and Trainer Membership with the Australian Board of NLP, Level 4 Membership with the Australian Counsellors Association, Master Certified Coach (MCC) credentials with the International Coach Federation and is a Certified Supervisor.
Heidi has held the roles of Chairperson and Vice Chairperson for the NLP Association of Australia (www.nlpaa.org.au) since 2006, NLP Leadership Summit since 2012 (www.nlpleadershipsummit.org), and is a founding board member of the NLP Global Body (www.nlpglobalbody.org). Heidi is the co-author of the book 30 Days to NLP, and You Must Learn NLP.
Email: heidi @ nlpworldwide.com
Laureli Blyth is a spiritual leader, natural manifestor and lover of travel. When she isn't training she is organising specialist speakers on cruise ships with her side gig with www.eventzinparadise.com.
She has over 25 years in the field of NLP. She is a well-known and respected International NLP Master Trainer, Clinical Hypnotherapist, & Numerologist. American by birth she now makes her home in Australia. She lectures & teaches programs in Australia, USA, Europe & Asia Pacific. The founder & director of the Australasian Institute of NLP in Sydney, she inspires & assists others to use their minds, get their voice & have the life they desire. Laureli has a vast knowledge of the psyche & assists her students & clients to integrate their minds, body & spirit. Her wholeness approach & extent of her knowledge is displayed in her range of books that are available throughout the world, Neuro Intelligence, Brain Power, Dream Power, The Numerology of Names & co-author of 30 Days to NLP and You Must Learn NLP.  
Laureli has been a part of the NLP Leadership Team since its inception in 2012, and holds Clinical and Trainer Membership with the NLP Association of Australia.
 Email: laureli @ nlpworldwide.com
Tammy has spent a lifetime studying the human psyche – from the eastern and spiritual philosophies through to modern psychology and neuroscience. After transforming her own life using the tools of NLP, Tammy left her career in the corporate world to help pursue her passion, helping others to life their life by design rather than default.
She has spent more than a decade helping others to Awaken their Potential by letting go of the patterns of thoughts, emotions and behaviours that hold them back – empowering them to re-discover their self-worth and consciously create their futures.
Tammy will be involved in your Coaching Foundations and Coach Building Blocks programs. After transforming her own life using the tools of NLP, Tammy began to help others to move their own lives from simply surviving to truly thriving. Her passion lies in helping others to enjoy true well‐being – psychological, emotional, physical and even spiritual.
She is credentialed with the ICF as a Professional Certified Coach, holds a Diploma of Modern Psychology, Certificate in Life Coaching, NLP Master Practitioner and Trainers Certification and is committed to her own professional and personal growth with continued learning. She is also a Clinical Professional Membership with the Australian Board of NLP and the Professional Clinical Hypnotherapists of Australia.
Amy is our energetic, bright spark on the team. She is a lover of life, champion of all, and see'er of good in everything! You will meet Amy when you enrol in your NLP training, welcoming you to the program and facilitating your NLP Prac Starter training.
She qualified as Organisational Coach in 2016 and began working with the Royal Australian Navy as a Leadership & Professional Development Coach, growing the Navy's future leaders. During 26 years of her military service, Amy managed, developed and led high-performancee teams, that were exposed to high stress and traumatic incidents.  After experiencing a service-related stress illness herself, Amy was introduced to NLP on a Veteran wellness program. Amy used NLP, coaching and trauma-informed care skills to overhaul her mindset and approach to wellness. 
This journey ignited Amy's passion to connect with those who have lived experiences with trauma, using NLP to help them rediscover their identity, and wellness and create options for the future. Through Military connections and her coaching business, Amy has worked alongside thousands of people, seeing first-hand the transformations, growth and reconnection to themselves and others with NLP. 
We have an amazing team behind the scenes to support our students, ensure a seamless educational journey, and make the magic happen at NLP Land. 
Bianca Zenari
Senior Student Coordinator, Success Coach
Sandip Mukherjee
Student Coordinator, After Course Support
Margie Humphries
Behind the Scenes Magician
Shanen Denali
Multi-Tasking Wizard
Schedule a Discovery Call
We would love to answer your questions, share more about our programs, and see if our training will fit your needs. Schedule a free 20-minute Discovery Call with one of our Transformation Team members now.