International Coach Federation Accredited Coach Training Program
Since 1994 The Worldwide Institutes of NLP have been liberating human potential through NLP & Coach Certification Training. Now you can become an accredited coach in 6-12 months.
Train to be a


PROFESSIONAL

COACH
in the next 6-12 months with
THE NLP COACH CERTIFICATION
If You are a coach, you must learn
Neuro Linguistic Programming
Neuro Linguistic Programming as a modality for Coaching bridges the gap between traditional therapy (problem focused) and traditional coaching (solution focused) and puts the focus on the client.
In todays world, need something that helps you stand out from other coaches – and that something, is Neuro Linguistic Programming.
NLP Techniques
NLP isn't talk based coaching. You will learn specific NLP strategies to help your clients change, enhance and remove patterns of emotions, behaviours, and beliefs. Learn NLP techniques like timeline, parts integration, swish pattern, anchoring and more to help move your clients forward toward their desired state.
Pattern Detection
The driving force behind all human behaviour are the unconscious patterns that drive us. NLP will train you to identify and understand these patterns. From there you will know how to use the NLP processes to enhance what is working, change what is not, and create new. and better serving patterns.
Communication Tools
Originally NLP was modelled for the communication power of understanding an other persons model of the world and building unconscious rapport in order to understand and be better understood. These skills will serve you greatly in all aspects of your life: with clients, at home, in business, and in play.

Competency | Confidence | Community
These are the pillars that our NLP Coach Certification is built around. We teach you the skills, help you to build your coaching muscle, and have a great tribe of like minded individuals to continue to learn with and from. 
Coaching is a conversational process in which resources and capabilities are developed and represents a relationship of cooperation that involves an alliance in the work of empowering a client. Coaching is tailored to the client and their needs, where the coach guides and supports the client in achieving their goals, desires and intentions. This may through life coaching, health coaching, wellness coaching, business coaching, or any other niche coaching you desire. Ultimately, coaching enables the client to overcome personal barriers and boundaries, leading them to the state to use their best abilities in a targeted way, and supports them to fulfill their tasks within the team, family, company in the best possible way.
With NLP, coaching is a process focused on the goal and the solution and the goal of the coach is to support the client in developing skills and abilities so that the client finds the best solution, formulates personal and professional goals, remains focused on the necessary actions for their realisation and thus achieves success in personal, family, partner or business plan.
Why Choose NLP as a Coaching Modality?
Over the years, many coaches have come to learn NLP with us only to wonder why they didn't start with this modality in the first place. Adding NLP into your toolbox as a Coach is imperative, which is why we fortify your coaching skills with the heartiness of NLP as a base for everything you do.
 NLP has an Outcome Solution focus – meaning that instead of focusing on a problem, we identify how to find ways to help clients achieve their desired outcome and we apply the tools of NLP to build resources and clear interferences using the unconscious mind.
The tools and methodologies of NLP to assist clients in both a therapeutic and coaching aspect. Because NLP is a very outcome specific coaching tool that encompass skills for identifying goals, creating motivation, clearing barriers for success and creating a clear pathway, you can help a client get to their desired state or goal quicker and more efficiently than more traditional methods.
We have a variety of students join us for the NLP Coach Certification. While most are new to coaching and NLP, many coaches and therapists desire to upgrade their toolbox with NLP, and many HR and business professionals are adding NLP communication skills and coaching to their skillset. 
This training is an ACTP course with the International Coach Federation which sets quality standards, core competencies and ethical principles in professional ICF coaching in all areas – business, life, management, sports, career, health, executive. This uniquely designed program is intended for all who want to improve their work, discover and exploit their potentials, improve relationships with their partner and family, direct their careers, improve the skills of parenting or are committed to increasing the quality of their lives and the lives of others.
New to Coaching and NLP – 45%

Coaches & Therapists Upskilling – 35%

HR & Business Professionals – 20%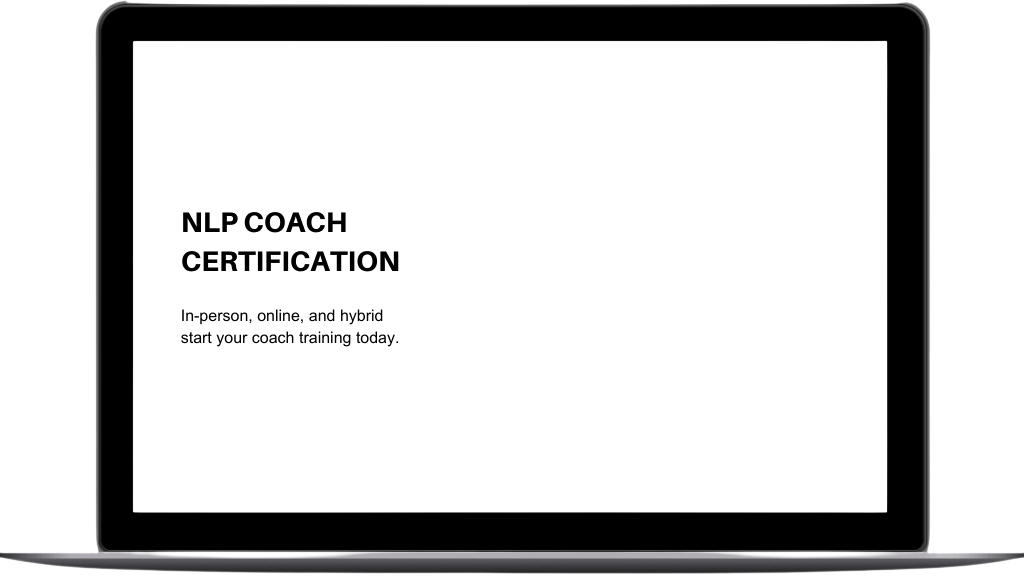 Since 1994, NLP Worldwide has been perfecting our NLP Coach Certification Training. Now you can start learning and become an accredited coach in 6-12 months. 
The following is an example training plan spread over 12 months. Your own training plan may differ depending on when the live training is scheduled, your availability and personal momentum. Your personal coach will help to keep you on track and accountable for completion of your program.
Your Coach Training Program
The Coach Certification Training with the Worldwide Institutes of NLP is a blended learning program comprising over 150 hours made up of 19-24 days of live group training (in-person or virtual), online self-paced modules, coaching practice (either online or in person) and online group mentoring/supervision.
Immediately upon enrolment you will begin your training with the online NLP Starter, Coach Starter, and Coach Building Blocks followed by the Level 1 NLP Practitioner Training, and the remainder of the program can be completed in any order.
International Coach Federation 
The NLP Coach Certification training is an ICF Accredited Coach Training Program. The specific details include:
Date of ICF Accreditation: 2018
Credential: Level 2 (ACTP)
Hours: 150
Language: English
Locations: Australia, Singapore, USA, Online
NLP - Level 1: NLP Practitioner Certification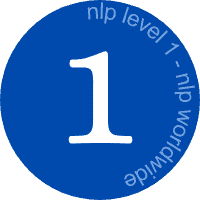 Your journey to become and NLP Coach begins here. This first level of NLP training will offer you an introduction to the NLP tools, Coaching Core Competencies and self-coaching themes. While it has a focus on YOU and your personal development, this inevitably leads you to a better understanding of others.
7-days in Sydney, Singapore, Denver or 8-days Online + pre-course study
NLP - Level 2: NLP Master Practitioner Certification
In this program, you will learn to detect patterns, secondary gains and add numerous tools to your toolbox including conversational change, quantum linguistics and advanced techniques to help facilitate growth and change. This is where the artistry of Coaching really begins. 
9-days Sydney, Singapore, Denver or Online + pre-course study
NLP Coaching Foundations
The focus of this training is to provide you with a structure, so you know what to do with your clients, when to do it and why you are doing it. The emphasis is on 4 major core competencies and skill development to ensure you can help lead your client to their successful outcomes.  

Online live for 6 weeks, 3 hours per week + weekly homework
NLP Coach Building Blocks
Coach Building Blocks is designed to take your Coaching Skills from competent to excellence. The aim of the program is to help you incorporate and improve your NLP skills into a dynamic NLP Coaching practice through 7 robust online training modules. 

Online self-paced for 6-8 months
Mentoring & Group Supervision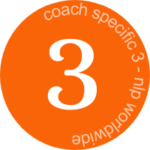 Supervision (or Mentoring) is an invaluable resource to learn best-practice of working with clients. Run monthly online, you will confidentially discuss your clients, what NLP tools you are using and identify the various patterns that your client is presenting. The requirement for completion of the course is 10 hours.  
Online live – 1-2 hours per month
Coach Training Extras
In addition to the coach specific training you will also receive the following:
NLP Coaching Starter Workshop
6 personal coaching sessions
Unlimited after course support
Lifetime student membership site

Twice monthly practice groups
Build Your Business Workshop
Finding Your Niche Workshop
Coach Mentoring Groups

30 Days to NLP book
NLP Cue Cards
Updated electronic manuals
Using NLP Video Series
Sydney, Australia
START TODAY
& next Level 1 training begins:
3-9 February 2024

Payment Plans Available
Sydney, Australia
START TODAY
& next Level 1 training begins:
3-9 February 2024

Payment Plans Available
Singapore
START TODAY
& next Level 1 training begins:
24 Feb-1 March 2024

Payment Plans Available
Singapore
START TODAY
& next Level 1 training begins:
24 Feb-1 March 2024

Payment Plans Available
Live Online
START TODAY
& next Level 1 training begins:
24 Feb-1 March 2024

Payment Plans Available
Live Online
START TODAY
& next Level 1 training begins:
24 Feb-1 March 2024

Payment Plans Available
Live Online
START TODAY
& next Level 1 training begins:
24 Feb-1 March 2024

Payment Plans Available
Live Online
START TODAY
& next Level 1 training begins:
24 Feb-1 March 2024

Payment Plans Available
Denver, USA
START TODAY
& next Level 1 training begins:
27 July - 2 Aug 2024

Payment Plans Available
Denver, USA
START TODAY
& next Level 1 training begins:
27 July - 2 Aug 2024

Payment Plans Available
Thanks for Visiting NLP Worldwide
Since 1998 I've been involved in NLP and I started my Coaching Business in 2000. Over the past 22+ years I have fallen in love with this helping profession. Who wouldn't love having such great tools to help your clients find out who they are and why they are alive; help them to tap into their unconscious mind and clear limiting beliefs, behaviours and blocks that hold them back; help them to embrace who they are, what they want and help them find their passions and help them live their truth. 
After over 13,000 hours of coaching individuals, teams, couples, families, and organisations two things are clear to me: 1) no one person is the same as anyone else, and 2) we are all striving to be seen, heard, and felt in a way that makes us feel whole and complete. With an education in clinical psychology, the modality that has helped me to help the most people is NLP. It is very common-sense driven with the clients desired outcome in mind. 
It would be my pleasure to share more about the modality of NLP and Coaching, to answer your questions, and hopefully help you to help others! I invite you to explore the website, download our many resources, grab our NLP Coach Training Prospectus and even schedule a call with myself or a teammate.
I hope to meet you soon!
Best regards,
Dr. Heidi Heron PsyD
NLP Master Trainer, NLP Coach & Therapist, Doctor of Clinical Psychology, Director of Training & Operations
Dr. Heidi Heron PsyD
NLP Master Trainer, NLP Coach & Therapist, Doctor of Clinical Psychology, Director of Training & Operations
Our students become raving fans because of the experience level of our trainers, the real-world application they learn, and the skills they take away. But don't take our word for it.
Serene Nah
Executive Director and Chief Financial Officer, ICF Associate Certified Coach
The coach training solidified my learning into the muscle. With the coach specific training we broke the skills down even more. I thought I had a great idea of how to coach until this training – and I got the insight and practice to really have it all come together. Being able to integrate it together, I feel so much more confident to work with NLP with clients. The feedback I got from Dr. Heidi helped me tremendously to grow. Being able to ask questions, break down what I was doing really made a difference for me as a coach. I think I've grown tremendously as a coach – it was toward the end of the full coach certification that I really feel that I got it, and I got it at a "Heidi approved level". I know I can truly get my clients to where they want to be!
Adam Rice
Coach, Counsellor, Consultant, and Trainer
I started my NLP training in 2016 and have completed the full training up to and including NLP Trainers. It's been an amazing journey. I wanted to learn NLP because I have a colleague who learned NLP and she helped me to view my past in a new way and from then on I wanted to know more, it gave me instant change. I had a look around at a few training companies, the best reputation came from NLP Worldwide, Laureli and Heidi have so much experience and I wanted to model my skills on people who are the best at what they do, and no one came close to NLP Worldwide.  It has by far been the best use of time – I thought I would learn tools to use with others, and I got that plus so much more. I learned skills that help me build more confidence, a better future, better relationships, my business has grown tremendously, and my health is better! There are so many things I've gained from learning NLP, I can't imagine my life without it!
Rachel Khoo
Coach & Speaker, ICF Professional Certified Coach
I have completed the NLP Coach Certification plus NLP Trainers Training. I learned it because I was interested in learning more about the unconscious mind, I've always been fascinated by it. I chose NLP Worldwide after looking at many training companies in Singapore but didn't find something that I fit. I have a friend who trained with NLP Worldwide and started to learn a bit more about the training. I went in with an open mind, just wanting to learn more about myself and the unconscious mind. I took so much away! I love NLP and use in every area of my life. I love the structured way NLP is set up, it all makes sense, is logical, and it is simple to use in my life. I now help clients to manage their money mindset, clear limiting blocks, and create more rapport with money. NLP helps in every aspect of life, and I would recommend learning NLP. Plus, Laureli and Heidi have so much experience, they make it fun, and there is always something to learn!
Judy Liu
Head of L&D and Coaching
I completed the NLP Practitioner and Master Practitioner training online – I thought it wouldn't be as good as in person and I was pleasantly surprised. In my work as a trainer and coach I learned so much about people because of this- I got to see more of my classmates, and I was really able to learn so much in the online environment. It really didn't feel different than what I expected in person. I learned how to connect with people in a new way that I will take into more of my life. I learned so much, and continue to keep in touch with my classmates and absolutely loved the training!
Schedule a Discovery Call
We would love to answer your questions, share more about our programs, and see if our training will fit your needs. Schedule a free 20-minute Discovery Call with one of our Transformation Team members now.