Internationally recognised
NLP Certification Training
Since 1994, The Worldwide Institutes of NLP have been offering NLP training through the world. All of our courses exceed the international minimum requirements of NLP and contain all required elements, including Timeline, Ericksonian Hypnosis and Coaching.
Our programs in the United States are all lead by NLP Master Trainer Dr. Heidi Heron.
Neuro Linguistic Programming (NLP) is about modelling excellence through your own life. Every NLP Certification course with NLP Worldwide looks at using NLP in 3 ways
For yourself | Within business | With others
The key aspect of all of this is YOU.
You are in charge of your mind, and therefore your results!
What is the difference between your MIND and your BRAIN? Do you know, your thinking changes the structure of your brain because your mind is separate to your brain.
Your MIND controls your brain. Your brain does not control your mind. With NLP, you take control of what you think, feel and choose – therefore you take control of your BRAIN. 
What you THINK, how you FEEL and what you CHOOSE effects your BRAIN and how your brain is wired and programmed. Because the MIND is more powerful than your brain you can change how your brain is programmed. This ability for the brain to change as a result of mind work is called neuroplasticity.
Neuro Linguistic Programming, which is based on modelling excellence, has tools to help you to change your programming at an unconscious level – which will help you to automatically Think – Feel – Choose in the way that is best for you to be your true and authentic self.
What will you take away from learning NLP?
We are often asked"what areas of life can you use NLP?", the easier question to answer is "What areas of life can you NOT use NLP?" – the answer to that one, we haven't yet found an area of life where you can't use NLP! Seriously!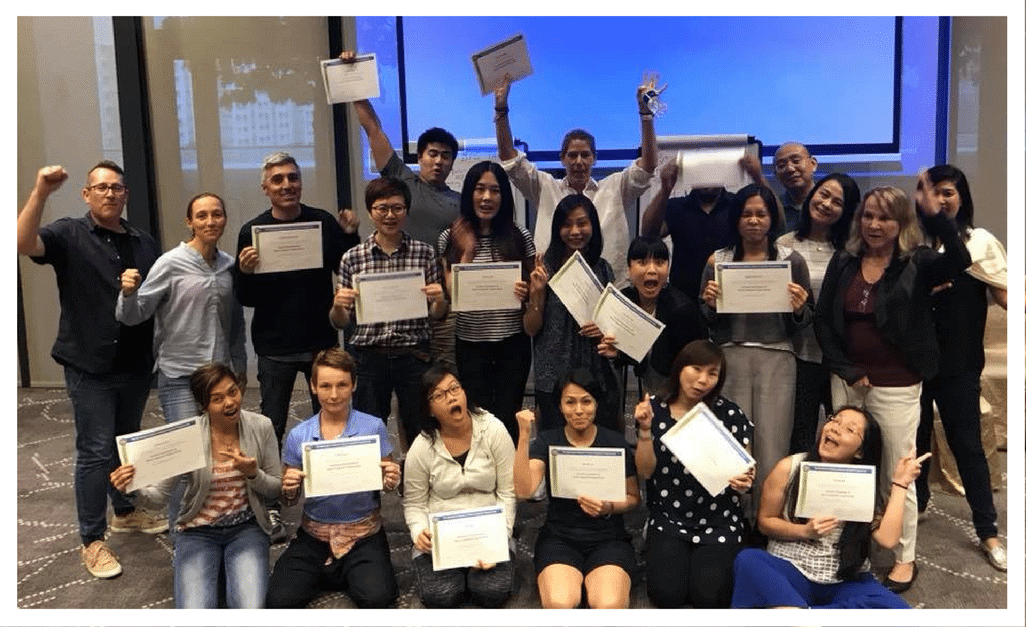 NLP Level 1: Practitioner Certification
This is your starting place for learning NLP. If you are looking for a boost in your personal development, if you wish to improve your communication skills, if you want to add NLP into your business toolbox or you are aiming to become an NLP Coach or NLP Therapist, this is where you start.
The Practitioner Level of training will give you an opportunity to change beliefs as you learn and create even more of what you want in life for yourself and with others. This is an internationally recognised NLP Certification training, at the successful completion of this program you will be awarded with a Certification as an NLP Practitioner. 
Duration: 7 Days In Person + pre-course homework

Pre-Requisite: None
Venue: North Denver, Colorado
Who Is this Course For?
This Level 1 NLP training is for anyone who is interested in learning more about Neuro Linguistic Programming and using these dynamic skills in their life.  
As you are aware, NLP is a great tool to use in many areas of your life including relationships, career, health, personal development, communication, parenting, leadership and motivation. Some of you may choose to use your skills helping others create a better life for yourself, and we teach NLP with you in mind – first and foremost we encourage you to use the skills of NLP for your own personal growth and development. 
The minimum age for this course is 15, the maximum is 106! 
What Will You Take Away?
The major focus of this program is to understand the structure of NLP and in doing so take you to new and higher neurological level. You will gain powerful new resources and skills as you learn how to integrate these with the resources you already have. 
Some of the key take-aways include:
Know what you want with certainty and have a path to get there
Establish a sense of well being and confidence in any situation
Resolve conflicts with ease
Easily deal with difficult people
Move from a problem focus to an outcome focus
Learn the difference between opinions and observations
Discover the goals behind your goals
Regain control of your life
Influence, lead, motivate and empower others
Enhance personal and business success
Excel in the way you communicate
Boost your sales and productivity
Develop more creativity and flexibility
Create a balance in life
Utilise and change your perception of time
And SO much more!
Some of the topics in this course include:
NLP Presuppositions
State Management
Representational Systems
Rapport
Submodalities
Timelime
Parts Integration
Ericksonian Hypnotherapy
Anchors
Strategies
Modelling Excellence
Human Communication Model
Metaphor Utilisation
Eye Patterns
NLP Coaching Techniques
Much, much more!
What Happens When You Enrol?
As soon as you enrol in the training, you will start learning with our pre-course learning. You will gain immediate access to: 
The NLP Worldwide Student Membership Site where you will watch videos before the course introducing you to NLP, the Minds, NLP Presuppositions, history of NLP and more
Online Communication Essentials program which is a content packed 2.5 hours of learning some of the key communication tools of NLP so you can start using them in life straight away!
Our 30 Days to NLP book electronically so you can read and familiarise yourself with some of the concepts and NLP lingo before the course starts 
The NLP Success Map so you can start to identify your intentions and desires for using NLP in your life.
Your manual electronically. We will provide a hard copy manual for you on day one, but you can start familiarising yourself with the content right away. 
Your knowledge review, which is a part of our assessment process. You can start completing this right away, it will be due on Day 7 of the course. 
What Happens After the Training?
After the training is when your 
real learning begins
. On the last day of class, you will create a plan with actionable steps about how you want to use NLP and how you will help yourself get NLP into your muscle. It generally takes 3 rounds of 21 days to create a new hard-wired habit – and we are committed to helping you do just that.
After your training, you will have life-long access to the Student Membership Site, which will be updated regularly for the next 12 months after your course. We will add new tips, articles, exercises, reminders and examples to keep your learning fresh. Additionally, we run a monthly online practice group, two in-person practice groups in Sydney each month, online supervision, coach mentoring, a 6-week buddy coaching program, ongoing learning opportunites and the ability to review the course again for free!  Compared to other NLP Training schools, NLP Worldwide goes above and beyond to help you get NLP into your life and your muscle!
Dr. Heidi Heron, PsyD
NLP Master Trainer
Dr. Heidi has been involved with the technology of NLP for most of her life and is an International Master Trainer of NLP, Clinical Hypnotherapist and Doctor of Psychology. Since 2014 she has been listed on The Worlds Top 30 NLP Professionals list, most recently ranked as #3 in 2018 (
www.globalguru.org
).
She has obtained her Doctorate in Psychology; Masters in Adult Education and Bachelor Degrees in Psychology and Communication. Heidi has a background in Corporate Human Resources Management and Personal Development. She has studied NLP with some of the top leaders in NLP and continues to up-skill herself personally and professionally. Heidi has been working in the field of Human Development since 1992. Currently, Heidi holds the role of Chairperson for the Australian Board of NLP (www.abnlp.org.au).
Heidi is a 5th generation Coloradoan, and has been residing in Australia for the better part of 30 years. She is a lover of summer, reading, learning and her beautiful kitties Honey-Buttons and Grace.
Heidi is the co-author of the book 30 Days to NLP and  You Must Learn NLP . 
Email: heidi @ nlpworldwide.com
Private practice: www.heidiheron.com 
Your NLP Training with Dr. Heidi and the Worldwide Institutes of NLP is going to be one of the most interactive, thorough, informational, inspiration and well designed programs you will ever attend.
The training will run each day from 9am to 6pm, with an hour for lunch plus 2 short breaks through the day. There will be homework in the evenings. We teach this course in an intensive generative learning style. Dr. Heidi will unpack the learning is a way that has proven to be very beneficial without being overwhelming, after all, she will be using NLP to train NLP!
Starting before you attend you will gain access to our Pre-course learning components which are made up of our 30 Days to NLP Book, 3 pre-course videos and you can get started on your Knowledge Review.
This course meets the International requirements for certification as an NLP Practitioner. As such, there will be a variety of assessments during the course, including an open book knowledge review, practical application assessment and observation.
You will laugh, you may cry and you will walk away with more understanding about your mind, your life, others and how to live your life the best you can and help others to do the same!
Our NLP courses are very popular and in order to keep the intimacy of the course we limit the training to only 18 participants. As such, we have implemented a short application process.
The application consists of 5 short questions that will help us to better know your intentions and desires for attending the training. Once we have received them, Dr. Heidi and George Carroll, the event sponsor, will review them and then will contact you directly for a more in-depth discussion about the training to make sure it meets your needs.
We encourage you to complete the application process as soon as possible.
Before and After the Training
Before Your Training
Once your enolment is complete, you will get access to the following pre-learning materials:
Access to the NLP Worldwide Student Membership Site
Pre-Course learning videos
30 Days to NLP e-book
NLP Success Map
After Your Training
Your learning doesn't end when the training does – in fact, that is when it truly begins. NLP Worldwide is dedicated to helping you get NLP into your muscle. We will continue to assist you to implement the skills of NLP into your life in the ways that you desire. We will help you do this by providing:
12 months on-going learning through the Student Membership Site
Lifetime access to the Student Membership Site
Access to our Learning NLP Video Series
Monthly Webinar
Monthly Online Practice Groups
Exclusive access to the NLP Worldwide Graduates Facebook Group
Your Questions Answered
Throughout the years we've been asked a lot of questions, here are some of the most commonly asked questions, and our answers to them. If you've got more questions for us about NLP, please let us know and we'd be more than happy to help!
Email: info@nlpworldwide.com
US Phone: 1800 263 1056
QUESTION: Are there any pre-requisites to the NLP training?
ANSWER: ABSOLUTELY NONE! And, since you've already watched these videos you are actually ahead of the game!
When you enrol we will send you access to our Student Membership Site where you will be able to access our 30 Days to NLP book that you can start reading right away. This is one of the texts we use in the class. But, other than that, nothing to do! 🙂 Easy hu?
Here is a link with more info about what is covered in the course: Learn NLP
QUESTION: I don't want to be a Practitioner of NLP. Which course should I be doing?
ANSWER: THIS ONE! This is the Level 1 course in NLP – and although the name is 'Practitioner Certification' we also cover how to use NLP for your personal development and communication, in business and with others.
If you do want to become a coach, we have a program for that too – but this course is where everyone starts their 'official' NLP journey.
Want some more info about using NLP as a Coach or Therapist?
QUESTION: Who will the participants of this course be?
ANSWER: Generally, the answer to this is 'professional' people – we tend to attract a lot of business professionals as well as individuals transitioning careers, wanting self improvement, and desiring to develop skills to work with others.
We have a maximum of 20 participants in our courses – you'll most likely find a variety of people. Parents, professionals, business owners, entrepreneurs, coaches, teachers, medical professionals, and more!
One thing that is constant – most people who attend the course have a curiosity. A curiosity about how the mind works, about why people do what they do and a curiosity about how they can do better in life.
QUESTION: Who will be the trainer?
ANSWER: Our trainers for all of our NLP Certification courses are myself (Dr. Heidi Heron) and Laureli Blyth. In January we have two courses being held at the same time. I'll be leading the NLP training in Sydney, Australia while Laureli leads the training in Singapore.
Regardless of which one of us is your trainer – you are guaranteed to the latest knowledge and skills available today and you are in great hands. We both get amazing feedback – our classes are very informative, practical and fun!! 

Although you've met us through the videos – here is some more info: nlpworldwide.com/about-us/
QUESTION: How am I going to benefit from learning NLP?
ANSWER: We've talked a lot about this in the videos – there are so many great benefits for learning NLP. Most of all – getting to really know you and being able to take charge of your life! We have a few downloadable documents that will help you to see the direct benefits for:
This will give you even more info about what you can use NLP for in your life! 🙂
Question: 7 Days! How am I going to do that!?
ANSWER: EASY! In the 20+ years that we've been training NLP we have learned that people are fascinated at how fast our 7 days go. We pack them with hands-on and practical applications that you'll be able to use on day 1. 

As for work, family, etc., this is just a week of your life. Many people take the time off work as annual leave, others ask for assistance from their employers and other still know the long term value of how NLP will take them to the next level in all aspects of life and just make the time!  As NK said (did you watch the videos??) – "its only 8 days of the rest of your life!"
NLP Level 2: Master Practitioner Certification

The Level 2 training is an advanced training that dramatically enhances your artistry with NLP! This next level of NLP will help you to incorporate NLP into more areas of your life and it will bring the puzzle of NLP fully together in new ways.
We will be investigating more complex and deeper tools to use in communication, personal development, business and with others. This is an internationally recognised NLP Certification course, at the successful completion of this program you will be awarded with a Certification as an NLP Master Practitioner.
Duration: 9 Days
Pre-Requisite: NLP Practitioner Certification
Become more artful and discerning with the abilities you already have while you learn a whole new set of wide-ranging skills, organizing principles, and perceptions. This training will take your professional and personal evolution to new levels of artistry, specificity and subtlety.
Where the Practitioner Training teaches the alphabet of NLP, the Master Practitioner Training moves the student into the domain of artistry. The "alphabet" becomes the tool for developing multiple perceptions and synergistic "third level" change work. Master Practitioner training will speed your attainment of unconscious competence in NLP. Come and learn advanced NLP applications for use in both professional and personal contexts.
The prerequisite to this course is NLP Practitioner Certification from a recognised training provider. The skills of NLP will teach you even more about NLP, the mind, deeper communication skills and higher level change processes. It is a fantastic addition to your own personal development tool box and an absolute must if you work with (or desire to) other people using the skills of NLP.
The training is presented in a generative learning mode (learning to learn). This method teaches how to use what you know, and to learn more and faster. The style of training (in a limited class size) enables you to absorb and develop immediately, noticing your own transformations during the course.
Taking your communication and people management skills to the next level of NLP mastery is the key purpose of this course.
Some of the key advanced topics include:
Advanced Submodalities

Advanced Timeline Techniques

Change Personal History

Advanced Meta-Programs

Values Elicitation and Enhancement

Advanced Hypnotherapy

Quantum Linguistic Patterns

Advanced Strategies for Modelling

Sophisticated Change Processes

Sleight of Mouth Patterns

Covert Reframing

Neuro-Logical Levels

Mind Matrix Development

Advanced Health Techniques

And, much more!
In passionate support of this approach, NLP Worldwide offers all students a high level of ongoing support to continue learning and integration long after your course is complete, inspiring ongoing use and development of these skills with yourself and your clients, team or organisation.