Online Coach Certification with NLP
Our Online Coach Certification was created to the people throughout the world who want to train with us at NLP Worldwide but are unable to attend the training in person. The training is 100% online, made up of our foundational program the NLP Level 1: Practitioner Certification plus coach specific training, skill development and coach supervision. The program is made up of over 130 training hours made up of in-person online over 6 months of training plus offline assessments and tasks.   
The Worldwide Institutes of NLP is accredited with the International Coach Federation  (ICF) as an Accredited Coach Training Program (ACTP) and subscribes to the Code of Conduct, core competencies and coaching standards set by the ICF. Upon successful completion of the program, you can apply to the ICF for Associate Certified Coach (ACC) credentialing.
Upon successful completion of the program, in addition to your NLP Coach Certification, you will have earned the credential of Certified NLP Practitioner. 
Training Components 
Online NLP Communication Essentials
Online NLP Fundamentals 
Online NLP Prac Starter
NLP Practitioner Certification 
Coach Specific Training 
Coaching Electives
Language & Behavioural Profiling 
Coaching Triads
Support 
6 Personal Coaching Sessions
Unlimited After Course Support
Student Membership Site
Updated electronic manuals
Trainer Lead Practice Group 
Ongoing Learning
30 Days to NLP Book
NLP Cue Cards
Using NLP Video Series
10 Hours of Group Supervision

Build Your Business Workshop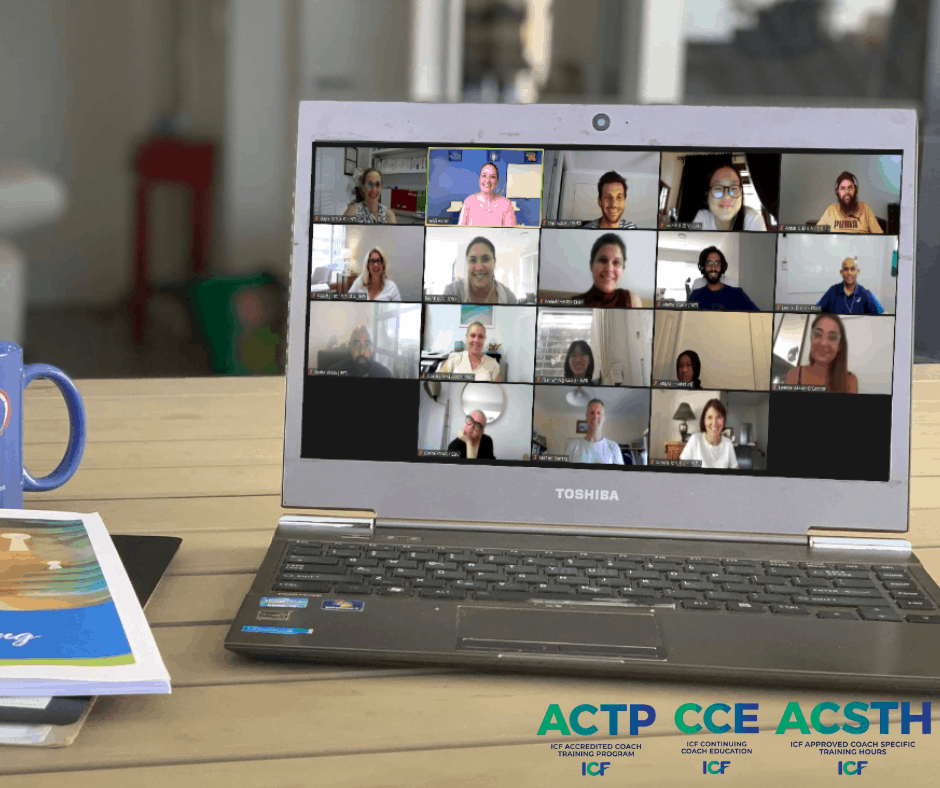 Online Training Schedule
Your training runs over 6 months, 1 weekend per month (6 hours/day) plus some Thursdays for 3 hours (Wednesday for USA). The following outlines the main timezones we cater for in the world. To find the translation to your specific timezone please visit www.timeanddate.com/worldclock/meeting.html
Sydney, Australia
Weekends:
5-6 June, 3-4 July, 7-8 August, 4-5 September, 2-3 October, 6-7 November
Thursdays: 
10, 17 & 24 June, 8, 15 & 22 July, 19 August, 9 & 23 September, 7 & 21 October
Training Times (choose from):
Weekends
9am to 3pm or 5pm to 11pm
Thursdays:
10am-1pm or 8-11pm
Singapore/Perth
Weekends:
5-6 June, 3-4 July, 7-8 August, 4-5 September, 2-3 October, 6-7 November
Thursdays: 
10, 17 & 24 June, 8, 15 & 22 July, 19 August, 9 & 23 September, 7 & 21 October
Training Times (choose from):
Weekends
7am to 1pm or 3pm to 9pm
Thursdays:
8-11am or 6-9pm
Denver, USA
Friday/Saturday
4-5 June, 2-3 July, 6-7 August, 3-4 September, 1-2 October, 5-6 November
Wednesdays: 
9, 16 & 23 June, 7, 14 & 21 July, 18 August, 8 & 22 September, 6 & 20 October
Training Times (choose from):
Friday/Saturday
5pm to 11pm
Wednesdays:
6-9pm
ABOUT THE ONLINE COACH CERTIFICATION PROGRAM
Your Online Coach Certification will start with the NLP Practitioner Certification with NLP Worldwide, delivered through our dynamic online structure over three months.  You will then continue with our Coach Specific training over another two months. Our intention from this program is to provide our students with the most comprehensive Coaching competencies grounded in the tools of Neuro Linguistic Programming. 
Level 1: Practitioner Certification
This is your starting place for learning NLP. Even if you are on the Coaching/Therapy track, this first level of NLP training has a focus on YOU and your personal development. When you enrol you will start immediately with our NLP Communication Essentials Online program which will get you using your NLP communication tools straight away.
Through learning the skills of NLP and applying them to yourself first, you will be embodying the tools of NLP.  This interactive course is focused on understanding how the unconscious mind creates and runs the programs of our lives. From how we make decisions to how we get motivated.
You will be learning numerous skills to assist your clients to uncover and access resources, clear blocks, barriers and interference and how to help coaching and therapy clients reach their desired states.
This is an internationally recognised NLP Certification course, at the successful completion of this program you will be awarded with a Certification as an NLP Practitioner.
Duration: Online over 3 months – 1 weekend plus Thursdays per month starting 5 June
Pre-Requisite: None
More Information: 
Sydney, Australia  
Singapore   
Denver, USA
Online
Coach Specific Training
After you complete your NLP Practitioner Certification you will progress straight to your Coach Specific Training. Over three months you will gain insight, practice and skill in the following topics: 
Coaching Ethics and Self Care 
The Business of Coaching 
Values Based Coaching 
Listening & advanced questioning skills
Complex Meta Programs – identification and utilisation 
Setting up your sessions for success
Identifying the interferences and resources of your clients
Choosing what process to use and how to pre-frame the process

Duration: Online over 3 months – 1 weekend plus 2 Thursdays per month
Pre-Requisite: Level 1
Coaching Skill Development
In addition to the in-person training via Zoom there are a variety of tasks and assessments you will complete to refine your coaching skills this includes approximately 60 hours of the following topics:
Pre-course learning – NLP Communication Skills & NLP Fundamentals
Peer group coaching trios with benchmarked sessions  
Language and Behavioural Online Training
Coaching Electives such as working with children, business coaching, positive psychology and more
Build Your Busines Online workshop 
Final Assessments – submission of 4 coaching recordings 
Clinical Supervision & Mentoring
Supervision (or Mentoring) is a beneficial way to learn best-practice of working with clients. Once you start working with clients it is recommended that you work with a Supervisor for 60 minutes for every 20 hours of client work you do. Your program includes 10 hours which are required for your certification and ICF credentialling.
During a Supervision session you will work either one-on-one or in a group situation with a qualified NLP Supervisor. You will confidentially discuss your clients, what NLP tools you are using and identify the various patterns that your client is presenting. Additionally, your Supervisor can help you with business strategies, marketing and self-management.
Our Supervision takes place in person, on the phone and online – both for one-on-one or in group situations.  The cost of Supervision ranges from $80-220 per hour depending on the type of supervision.
Sydney
Coach Package 
AU$9,965.00
payment plans available
NEXT COURSE STARTS
15-21 January 2022

Singapore
Coach Package 
S$9,965.00
payment plans available
NEXT COURSE STARTS
15-21 January 2022

Denver
Coach Package 
US$9,965.00
payment plans available
NEXT COURSE STARTS
15-21 January 2022

Online
Coach Package 
AU$12,650.00
payment plans available
NEXT COURSE STARTS
5 June-7 Nov  2021
Introducing NLP Worldwide
Coaching is one of the fastest growing industries in the world today – and there is little formal training actually required to call yourself a Coach (or a Therapist for that matter!), but providing exceptional training, developing your skills and passing on knowledge that will help you to best assist your clients is our aim here at NLP Worldwide. 
It is our passion and mission to share the skills of NLP and to help develop Coaches and Therapists to use the modality of NLP to help others. Since 1994, NLP Worldwide has been providing NLP training around the globe – and since 2009, we have been training Coach and Therapist Certification programs. 
Your Principal NLP Trainers, Dr. Heidi Heron PsyD, and Laureli Blyth, are not only Master Trainers of NLP, they also run their own private practices where they work with individuals, teams, families, couples, companies, leaders and groups with NLP. It is our intention to provide you a robust platform to learn, develop and grow your Coaching Skills with NLP. 
With NLP Worldwide, you can complete your basic NLP Practitioner Certification all the way to our NLP Coach Certification. 
Both Laureli and Dr. Heidi are a part of the NLP Leadership Summit, made up of 120 of the worlds leading trainers, they are Trainer Members and Clinical Professional Members with the Australian Board of NLP, and both are Clinical Superviors, Since 2014 they have been listed in the Top 30 NLP Professionals in the world list; for 2018 they are ranked at #11 and #3!
In their conversational and educational style, Laureli and Heidi are the co-authors of 30 Days to NLP and You Must Learn NLP. Laureli is also the author of Brain Power and Neuro Intelligence. You are truely in good hands with Laureli & Heidi!
Additionally, Dr. Heidi holds her Doctorate in Clinical Hypnosis, hold the highest membeship (Level 4) with the Austalian Counsellors Assocation and the highest membeship (Master Certified Coach) with the International Coaching Federation, plus she has held the roles of Chairperson and Vice Chairperson wih the Australian Board of NLP since 2006.
Why Learn the Modality of NLP?
There are SO many options to becoming a Coach or Therapist these days. Do you take the traditional route of obtaining a degree in Psychology, Counselling or Coaching? Do you take a traditional Coaching or Life Coaching course? Or do you opt for a more wholistic approach with NLP? 
NLP has an Outcome Solution focus – meaning that instead of focusing on a problem, we identify how to find ways to help clients achieve their desired outcome and we apply the tools of NLP to build resources and clear interferences using the unconscious mind.
The tools and methodologies of NLP to assist clients in both a therapeutic and coaching aspect.  Because NLP is a very outcome specific coaching tool that encompass skills for identifying goals, creating motivation, clearing barriers for success and creating a clear pathway, you can help a client get to their desired state or goal quicker and more efficiently than more traditional methods.
We differentiate therapy and coaching in the following way:
Coaching: assisting a person to achieve a specific goal through cognitive and behavioural encouragement, motivation, enhancement and change. An NLP Coach may help someone with goals such as weight loss, career change, starting a business, creating wealth, life transition, etc.
Therapy: assisting a person to achieve and maintain a new state of emotional, psychological or behavioural awareness. An NLP Therapist may help someone with a fear, anxiety, depression, feelings of worthlessness, unwanted behaviours, etc.
Ultimately your role as a coach or therapist will be determined by the clients that you are seeing. Some coaches choose to specialise in a specific area (ie. relationships, executives, men, etc), while others become more 'generalist' coaches and adapt their style to the topic of the client. The versatility of NLP skills easily allows for a generalist approach.
Coaching is one of the fastest growing industries in the world today. From Life Coaching to Executive Coaching – the thing that sets one coach apart from the other is the modality they use to coach. Of course as a coach, you want to be the best coach you can possibly be, and that is where NLP comes in. Because NLP is an Outcome Based tool it is exceptional to help people to maintain motivation, clear barriers and reach their goals.
 

It has been found that NLP Coaches:
Are able to help their coaching clients 45% faster than traditional coaches
Have versatile skills to bridge the gap between coaching and therapy
Earn up to 85% more income than non-trained NLP coaches
Report more self awareness, better communication skills and better relationships in their own lives
Starting your journey to become a coach or continuing to up skill yourself to be an even better coach has many personal and professional benefits. From a personal standpoint, your own personal communication, relationships, confidence and pathway will become clearer and more enriched. On a professional level, training as a coach provides you a meaningful platform for providing service to others while providing you with personal, professional and financial success.
If you are looking to add to your current coaching skills, become a professional coach, use your coach skills in your current workplace or simply gain qualifications to help others – the core competencies and skills you gain during your training will have a positive impact on your life and others. Our students and graduates use their coaching skills to start their own full-time or part-time coaching practices, many acquire coach skills to enhance their results in their current management or leadership positions and for others it is more of a personal journey and a time for personal growth.
Sydney
Coach Package 
AU$9,965.00
payment plans available
NEXT COURSE STARTS
15-21 January 2022

Singapore
Coach Package 
S$9,965.00
payment plans available
NEXT COURSE STARTS
15-21 January 2022

Denver
Coach Package 
US$9,965.00
payment plans available
NEXT COURSE STARTS
15-21 January 2022

Online
Coach Package 
AU$12,650.00
payment plans available
NEXT COURSE STARTS
5 June-7 Nov  2021