What is NLP?
Neuro Linguistic Programming (NLP) is a set of tools used to understand a persons unconscious programming; that is why we do what we do.
Ultimately, NLP helps you to understand how the language of the mind creates the programs we run in life. We have programs (or patterns) of emotion, beliefs, and thoughts – these determine our behaviours, outcomes, communication and more, for everything we do.
By understanding this, you can communicate more effectively, enhance/change you own unconscious programming, and help others to do the same.
Neuro Linguistic Programming (NLP), is a set of tools and concepts developed after modelling a variety of therapists and great thinkers in the 1970's. Something they all did in their own unique way was work directly with the unconscious, non-thinking mind to help their clients create changes in their attitude, beliefs, behaviours, and responses. From this modelling came a variety of tools that can be used in just about every aspect of life. 
Ultimately, with NLP you are learning how your mind works – and in turn other people's minds. In essence everything we interact with (see, hear, touch, taste, smell, think) creates a chemical reaction which triggers a response. What if you can learn how to purposefully alter those chemicals and therefore your responses? That, is NLP. 
This remarkable set of tools is based on the amazing discovery that in changing how you think can change what you think – and in changing how and what you think, you can dramatically transform the results you create in your life. 
The moment a person recognises the power of their mind, the individuality of their thinking, the control of their thoughts – they are able to transform the world.
CHANGE YOUR THINKING, CHANGE YOUR LIFE
Free eBook Download
You Must Learn NLP
156 ways learning NLP will improve your life 
written by NLP Worldwide Master Trainers
Dr. Heidi Heron & Laureli Blyth 
Or purchase a paperback copy at www.youmustlearnnlp.com 
We've been training NLP since 1994, and we are yet to find an aspect of life that NLP isn't useful for! What our students tell us, is how they use NLP boils down to three areas:
Your Personal Growth
Humans are the only mammal that gets in its own way. By learning NLP you are gaining a user manual for the brain, this will help you to make better choices, manage your emotions, control your thoughts, change your beliefs and boost your self-confidence, self-esteem, and self-love. In turn, you'll be a better partner, parent, friend, leader - YOU!
NLP in Business
Leaders, managers, sales professionals, entrepreneurs, lawywers, and many more professions have greatly benefited from learning NLP. Improving your communicaton skills, enhancing your confidence, becoming more influential, tapping into your creativity, and achieving goals are all things you will gain by adding NLP into your business skillset.
NLP with Others
Anyone in the helping profession will benefit from learning NLP to better address the unconscious patterns of their clients. This includes coaches, therapists, counsellors, teachers, trainers, doctors, personal trainers, and anyone working within the field of allied health. NLP looks past the symptoms of a person and digs down to work on the cause level.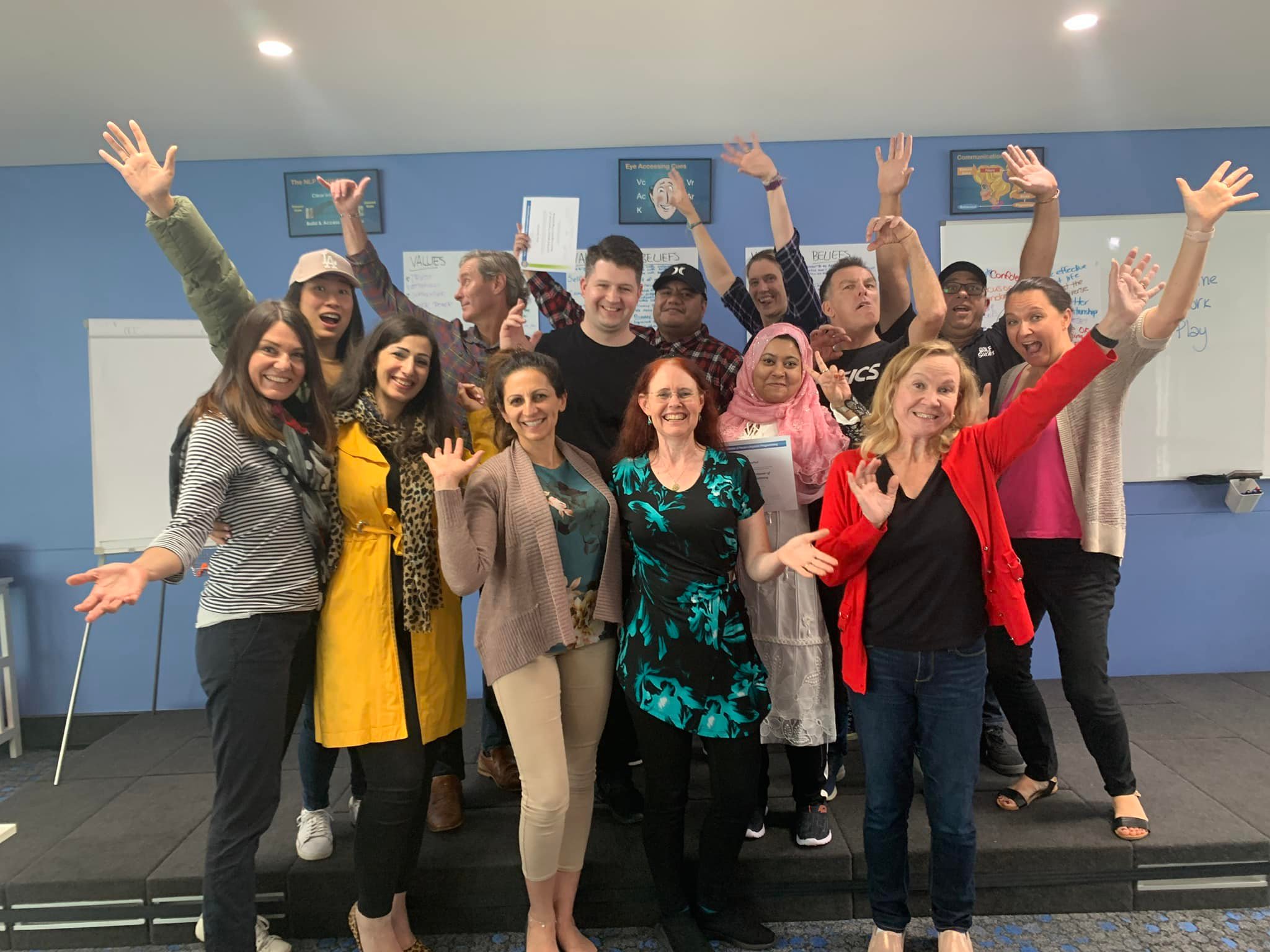 Top 30 Take AwaYs from NLP
Know what you want and a path to get there
Boost your confidence in any situation
Resolve conflicts with ease
Easily deal with difficult people
Move from a problem to outcome focus
Identify between opinions and observations
Discover the goals behind your goals
Excel in the way you communicate
Boost your sales and productivity
Develop more creativity and flexibility
Create a balance in life
Utilise and change your perception of time
Be clear about what matters to you
Regain control of your life
Influence, lead, motivate and empower others
Improve your presentation skills
Develop and enhance your relationships
Assist others with personal change
Gather specific information from others
Learn to control your emotions
Harness your personal self-love
Enhance customer service skills
Be able to pull out of "stuck states" 
Enhance your performance
Create your own personal state of excellence
Change unwanted patterns in a positive way
Clear barriers holding you back financially
Become clear about what matters to you
Find wholeness
Enhance your success 
Schedule a Discovery Call
We would love to answer your questions, share more about our programs, and see if our training will fit your needs. Schedule a free 20-minute Discovery Call with one of our Transformation Team members now.