You can learn NLP anywhere
What makes the difference is who you learn NLP with
Welcome to NLP Worldwide
NLP & Coach Certification
NLP & Coach Certification Training since 1994 

Our passion for NLP lies less in the business of NLP and more in the people who learn it and the techniques behind it. We have experience with NLP in the classroom, and more importantly, out of it. We use NLP every day; first in our own lives and second, with others. 
Since 1994, Laureli Blyth and Dr. Heidi Heron PsyD have been training NLP courses, consulting, coaching and providing therapy with NLP globally. Their expertise in and out of the classroom brings real world experience to your learning. Our NLP Coach Certification is an ICF Accredited Coach Training Program.
Instead of choosing your course based on the dates or cost, choose your trainer. There are widely varying degree of skills and competency – when you learn NLP, you want to learn NLP with the best, don't you. 
All of our NLP Certification courses meet and exceed the minimum standards and international requirements including timeline and Ericksonian Hypnosis.
See our full training schedule
Since 1994, NLP Worldwide has offered NLP courses and Certification trainings through the world. Headquartered in Sydney, Australia – our NLP Master Trainers Dr. Heidi Heron PsyD and Laureli Blyth are leading experts in Neuro Linguistic Programming and Coach Training.
NLP how it was meant to be
Change your thinking.
Change your life.
Think | Feel | Choose
Neuro Linguistic Programming (NLP) is the study of human excellence, created from learning how to manage your mind – your unconscious mind. NLP teaches that you not only can we intentionally consider how we think, feel and choose, we have the ability to reprogram unconscious pathways of what we think, feel and choose.
You are in charge of your mind, therefore your results.
What we think, feel and choose changes the wiring of your brains. In fact, neuroplasticity, neurogenesis and quantum physics has given us a way to explain how the brain changes itself in response to the application of NLP with yourself or others.
When you can understand how the language of the mind creates the programs you run in life, you can enhance what is working, change what is not and create new programs or emotion, behaviour and thought. Our NLP courses will help you do just that.
Choosing to Learn with NLP Worldwide
 Both Laureli Blyth and Dr. Heidi Heron PsyD are a part of the NLP Leadership Summit, made up of 120 of the worlds leading trainers, they are Trainer Members and Clinical Professional Members with the NLP Association of Australia, and both are Clinical Supervisors, Since 2014 they have been listed in the Top 30 NLP Professionals in the world list; for 2020 they are ranked at #5 and #8!
 In their conversational and educational style, Laureli and Heidi are the co-authors of 30 Days to NLP and You Must Learn NLP. Laureli is also the author of Brain Power and Neuro Intelligence. You are truly in good hands with Laureli & Heidi!
Additionally, Dr. Heidi holds her Doctorate in Clinical Hypnosis, hold the highest membership (Level 4) with the Australian Counsellors Association and the highest membership (Master Certified Coach) with the International Coaching Federation,  Trainer Membership with the Association of NLP plus she has held the roles of Chairperson, Vice Chairperson, Treasurer and Secretary with the NLP Association of Australia since 2006. She also has an active YouTube Channel!
 NLP is a large investment of time and money – make the best choice you can by asking questions. When people do their homework when choosing their NLP Trainer, they generally choose us. We encourage you to contact our trainers directly – talk to us online, in person, via Skype – get to know us, ask us questions and see if our style, knowledge and skills fit your desires for learning NLP.  
  It's different here – find out why!
Why do you Want to Learn NLP?
First and foremost, being here and reading about NLP tells us that you are curious about NLP, how the mind works and how you might benefit from learning NLP. Welcome!  
Perhaps you have scoured the Self-Help section, attended various seminars, watched the documentaries to become your best self – if any of this sounds like you, then you sound like one of us! 
Throughout the past few decades, we have learned that our students come to learn NLP for two main reasons: 
NLP as a Coaching Modality
Personal & Professional Growth
Use NLP as a Coach
Neuro Linguistic Programming is a dynamic and versatile tool that is enormously valuable in helping others from a Coaching perspective. Our NLP Coach Certification training is accredited by the International Coach Federation (we offer ACTP, ASCTH and CCE training for the ICF), and will equip you as a Business Coach, Life Coach, Wellness Coach, Health Coach, or any area of focus you desire.
You will start your NLP Coach Certification with our NLP Practitioner Certification and graduate into NLP Master Practitioner and our Coach Specific training courses. The full program was designed to be completed part-time in 8-12 months.  If you are new to Coaching, or have been Coaching for a while, our Build Your Business training will help you to get your business off the ground and financially viable. Many of our students are Human Resources Professionals or leaders in business wanting to gain their Coaching Credentials. Wherever you are on your journey, we invite you to investigate further and find out if our NLP Coach Certification fits your needs.
Personal & Professional Growth
Is learning to manage your emotions, boost your confidence, change your patterns, clear beliefs, or enhance your self-esteem important to you? Or perhaps you lean toward being a better communicator, leader, parent, or overall self? If any of this rings true, then learning NLP for your personal and professional development is key!
NLP originally was modelled on communication and personal change tools, and this is still a focus of the NLP Practitioner and Master Practitioner training today.  Neuro Linguistic Programming will help to give you an edge in managing your own mind, emotions, and health; and you will be able to better communicate, manage,  lead, motivate, and inspire others! 
If you are a trainer, consultant, HR professional, Coach or sales professional you may also benefit from our NLP Trainer & Consultant Certification training.
How to Start Learning NLP?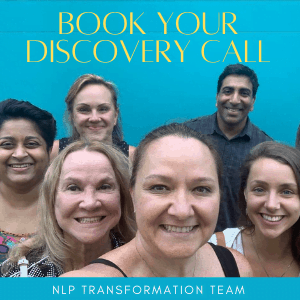 Do you have questions? Do you want to speak with one of our Transformation Team directly to find out more about our NLP or Coach Certification?
Book your free 30 minute Discover Call now.
An NLP Presupposition (assumption), is the more you know, the better you can do. Based on this, we have put together a variety of ways for you to learn more about NLP. We invite you to download one of our books or jump into our Intro to NLP webinars.
Of course, we always think its a great idea to schedule a Discovery Coaching session for you to ask questions, meet us and find out if NLP Worldwide has the program that suits your needs.
156 ways learning NLP will Improve your Life
Find your personal WHY about learning NLP.  Written by Dr. Heidi Heron & Laureli Blyth
2 Introduction to NLP Webinars
Access two of our webinars Introducing NLP & NLP for You with Dr. Heidi Heron & Laureli Blyth
Demystifying the Coaching Process
Learn what it takes to become an NLP Coaching is and if its for you. Written By Dr. Heidi Heron
Or Register Now for your Training:
All of our NLP Certification courses meet and exceed the minimum standards and international requirements including timeline and Ericksonian Hypnosis.
How can NLP be used?
The tools of NLP are very versatile and we train our NLP courses in a very specific way to help you use NLP in every aspect of life: as a parent, a business owner, at work, with friends, in your finances, with your health, for your growth, in training, as a leader, and just being a better you!
What is NLP?
NLP is about understanding how the language of the mind creates the patterns and programs you run in life. We have programs for everything that we do – and by understanding this you can enhance the programs that are working well, change what isn't working well and 'map across' resourceful patterns to other areas of life and you can use this information to help others too! Ultimately, with NLP you are learning how your mind works – and in turn other people's minds. In essence everything we interact with (see, hear, touch, taste, smell, think) creates a chemical reaction which triggers a response. What if you can learn how to purposefully alter those chemicals and therefore your responses? That, is NLP.
You can Learn NLP in Australia, Learn NLP in Singapore and Learn NLP in the USA with us. We offer a variety of Introductory Workshops to help you learn more about NLP, plus we run the full-cycle NLP Training which includes 3 Levels of NLP Certification plus Coach specific training programs.